I launched a new newsletter (and podcast)
Some personal news.
In January I started a new job as editor-in-chief of
, a newsletter collective exploring how business will shape our future.
This new Substack publication was an idea I pitched to Silicon Slopes last year, and I am so grateful they agreed to hire me to create it and to provide all the resources we could need to make it more incredible than I could have imagined. It launched on Monday—I even invited my favorite Substack writers to record discussions with me for the launch. You can watch all six here.
This is literally my dream job. Not only do I get to lead a newsletter collective on the topics I'm most interested in, but I get to write two weekly newsletters:
New Capitalism, a weekly newsletter about how better business could better the world (Mondays)

Post Modern, a weekly podcast contemplating the futures we want to create (Fridays)
You can subscribe to both here:
I'm so excited to explore all the topics I'm interested in alongside a team that really knows what they are doing. Our executive team is just as geeky as I am when it comes to building (and iterating on) the future of media, our producer
is making the podcast a high-quality thing I never could have created on my own, and our incredible artist Calla Tolbert has more than elevated the brand with her imagery.
I'll also be writing alongside three other writers—
,
, and
—who are publishing their own newsletters on Tuesdays, Wednesdays, and Thursdays. Each of our newsletters have its own section in The Post and you can unsubscribe from whichever don't interest you. (Just click unsubscribe at the bottom of an email and then uncheck the newsletters you don't want to receive.)
I'll cross-post my first few essays and podcasts for The Post here so you can see what they're like, but you'll have to subscribe to The Post if you want to get them in an ongoing way. And because I'll be writing nonfiction essays and podcasts there every week (on Mondays and Fridays) I'll be saving this space for my utopian fiction and the occasional essay that wouldn't be a good fit for The Post (on Wednesdays).
Because my days are devoted to nonfiction, it has been so fun using my mornings just for fiction. I even figured out a way to adapt my utopian novel better for Substack. Chapters are no longer titled with chapter heads, and each one now explores one aspect of my utopian world. I think that will allow them to standalone better, even as they go together in a novel format. I can't wait to share the next chapter with you!
I will still compile all of my work, whether it first publishes in The Post (where a lot of my nonfiction will be) or The Novelleist (where a lot of my fiction will be) in the Index for my Oblivion project. And I will still compile both into print editions when they reach the right length. I'll also publish my reading lists below each post rather than sending them as their own emails to limit the number of emails you receive.
We introduced The Post at the Silicon Slopes Hall of Fame, an annual event where my company celebrates innovative tech companies in Utah. It was so fun to meet a lot of the people I'll be writing for, and it was a fun, full-circle moment for me career-wise. Clockwise from top left: Me with
, the subject of
the crypto novel I crowdfunded last year
; me with
, the new editor-in-chief of
Utah Business
(where I worked as editor-in-chief formerly); my NFT sneakers custom designed by Taft for
Cryptopia
, an event I co-founded last year; my amazing new team; me with my husband at the event.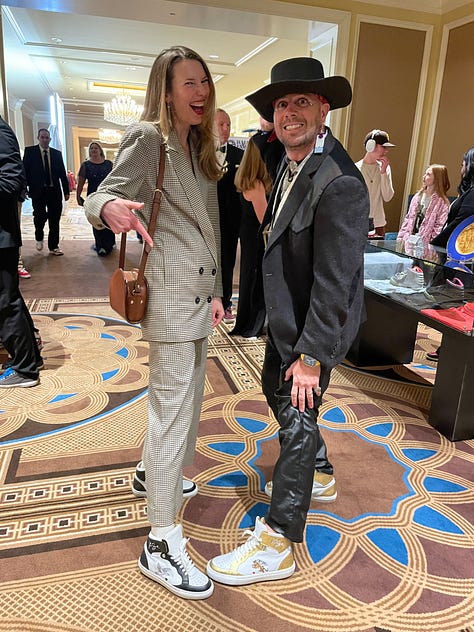 I'm so excited for this new chapter of my career. And to spend my time (not just my early morning writing time) dreaming about a more beautiful future and writing it into existence.
Thanks for being here,
Elle